News:
Trains & Ferries to Corfu
Visit Villa Loukia without flying
This season we are very excited that we have two sets of guests coming by train and ferry to Villa Loukia.
In June, we have a retired couple making a 3 week holiday of it and taking in the Netherlands, Germany, and Venice on the way down and Naples & Pompeii on the return (with a week relaxing at Villa Loukia, in the middle).
In September, we have a young couple doing it with just their standard 2 weeks off work; longer on the way down via Eastern Europe and then a direct route back. Both have offered to blog about their experiences, so watch this space.
We will then be able to give knowledgeable advice on trains as we do already on coming by road. Lots of routes and lots of options for great holidays!
And for those who fly, we will continue to offset your flights. Fly EasyJet and they will offset too. 😀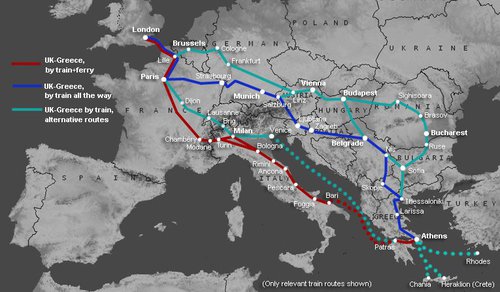 A Landline at last!
It only took 12 years!
Getting internet to Villa Loukia has been a complete headache for us for 12 years.  We were beyond excited last week when at last we were given a landline.   We will now have reliable internet at Villa Loukia!  
In the photo you will also see some scaffolding - watch this space to see what improvements we have done over the winter, ready for the new season!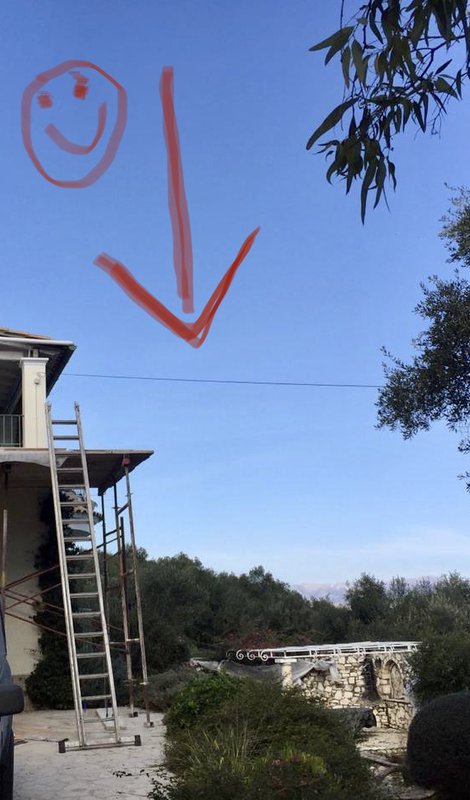 2019 Carbon Offsetting
Once again aiming at carbon neutrality for our granddaughter Imogen.
As the 2019 season draws to a close, I have once again offset all carbon used associated with the running of Villa Loukia and the carbon associated with all our guests' flights.
In 2019 we have improved the carbon footprint connected to our staff as they are now all local to Kassiopi, thus reducing their driving miles.

Also we now use an eco-laundry, as detailed in previous news.
We continue to make a good percentage of our own electricity with our solar water and our photovoltaic panels on the roof.  Overall consumption of electricity was up this year but is it hard for us to know why - everyone who stays at the villa lives differently...
The carbon connected to all the flights taken by all who visit Villa Loukia, is up for two clear reasons.  Firstly, more single week holidays were taken this year (more carbon efficient to stay longer!) and secondly,  I have adopted the recommendations of DEFRA and multiplied our aviation emissions by a Radiative Forcing Factor of 18.891 to allow for the carbon emissions from planes at high altitude, which have an increased effect on global warming.  This seemed sensible to do.
So to make Villa Loukia carbon neutral in 2019, I have offset 76.3 tonnes of carbon by investing in Gold Standard, community based, verified, carbon reduction projects in India, China and Africa.  
As last year, Nick and I take this action for the future of our gorgeous granddaughter Imogen.
Lucy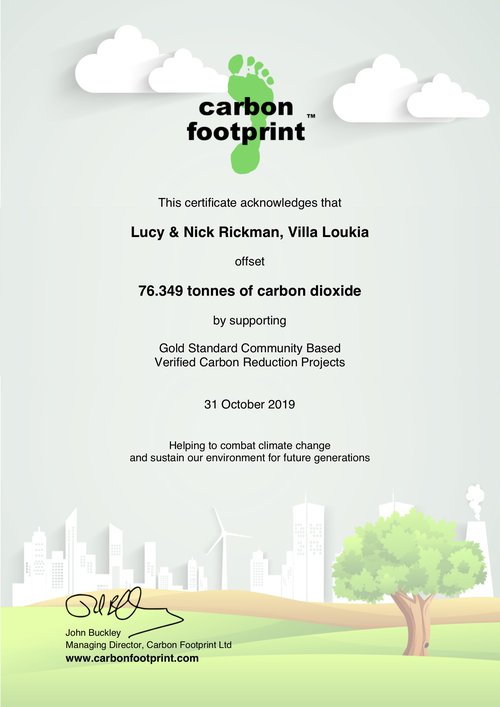 Eco-Laundry
Let's dry the linen naturally!
At last we have found a really great laundry service on Corfu, run by Lorraine McKay.  To date, we have struggled to find a laundry that would bring my high quality linen back to Villa Loukia super-clean, soft and ironed!  
Lorraine has got it nailed and my sheets and towels have never looked better and with the added bonus that she runs an eco-laundry.  She only uses eco friendly powder with oxygen.  No bleach or bleaching agents.  Well water is used and all their machines are AA plus rated, so energy efficient.  And dryers are only used during poor weather and the laundry is hung outside to dry.  Very happy - Lorraine's laundry is perfect for Villa Loukia!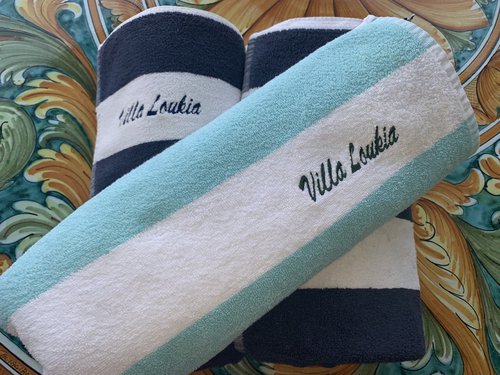 Taking Bookings for 2020 and 2021
Fully booked for 2019
2019 has been our busiest season yet and Villa Loukia does not have an empty night all season.  Our great team over in Kassiopi is coping well.   Guests who plan ahead are winning too as I have taken bookings for 2020 and 2021!   It really does pay to plan ahead, especially if you have very inflexible dates.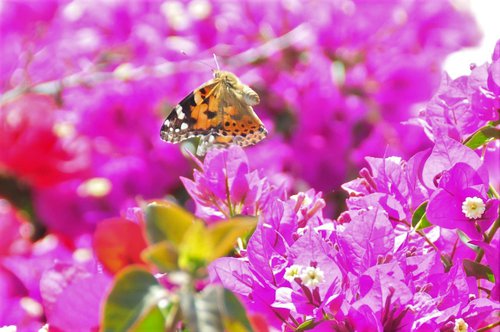 One week left for 2019
17th-24th August 2019
We have just one week left of the 2019 season from Saturday 17th - Saturday 24th August.  Once it's gone it's gone!  We have, however, started taking bookings for 2020 so why not plan ahead to avoid disappointment!   It is always good to have a holiday to look forward to.  Our forward planning booking  record is currently at 21 months!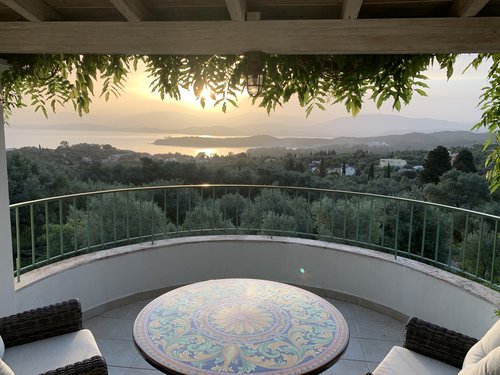 First Review of 2019
Exceptionally comfortable, practical and stylish home; perfect for a family holiday.
We loved everything about Villa Loukia – just for example: the cream and green external colour scheme, the comfort and spaciousness, the clear instructions, the sharp kitchen knives, the swing-seat, living in an olive grove, the ping-pong table, the bathrooms, the beautiful heated pool and the exceptional view. The kitchen is well-organised and equipped, and well lit - very easy to use. The lighting throughout the villa is good: there are good reading lamps, and movement-sensitive low-level lights to guide night-time steps! It was lovely to have emergency rations waiting for us on arrival. We admired the effort and thought which has gone into being carbon-neutral. The villa is in the north-east of Corfu, on the lower slopes of Mount Pantokrator, easily accessible from the main coast road, with excellent directions provided by the owners. Unspoilt beaches and coastal paths are within easy reach by car, as is more mountainous country. The nearby village of Kassiopi is within walking distance, has a pleasant atmosphere, a range of small supermarkets (so it's not necessary to go further to shop for food) and a pretty port area with plenty of options for eating out. Even outside high season there are activities such as scuba-diving available: our son had a great day with Dive Corfu at Acharavi, about 20 minutes' drive along the coast. We liked the undeveloped parts of the coastline best (and there is still plenty) and the quiet mountain villages. We were impressed by the villa's support team – for example, the delightful people who maintain the pool to perfection, and are evidently anxious not to be a bother. We saw and heard so much wildlife during our stay, but thankfully none in the villa itself! We were not there at a time when mosquitoes were a problem, but the mosquito nets which were in place looked very effective. The whole week was a delight.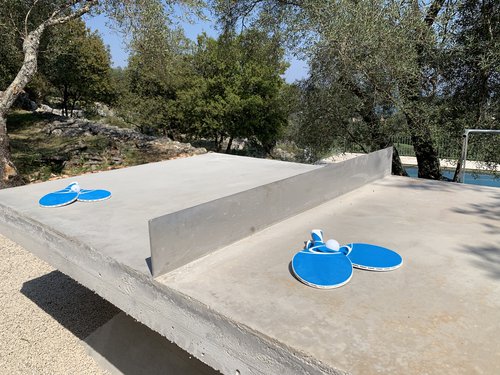 New for 2019!
Table Tennis Court
For 2019 we have created a futuristic table tennis table in its own court, nestled into the olive grove above the pool.  Perfect way to get some exercise after a day lounging by the pool.  We think this is going to be a very popular feature.  Bats and balls are provided.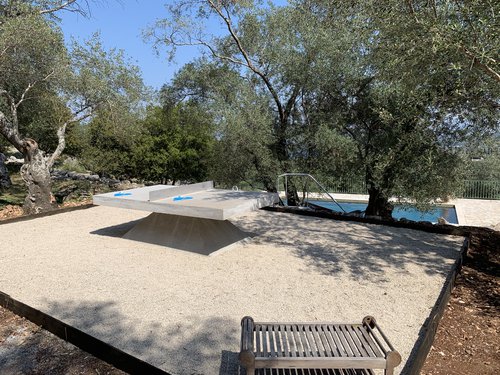 Welcome 2019
Bookings coming thick and fast!
Happy New Year to you all.  
We are once again looking forward to a busy season at Villa Loukia.  Bookings for 2019 are coming in fast but there are a few very nice weeks left available, so do get in there quickly.

I have also just taken my first booking for 2020.  Without a doubt it is worth booking early, especially if you are wanting a particular date for that special occasion. 

Best Wishes
Lucy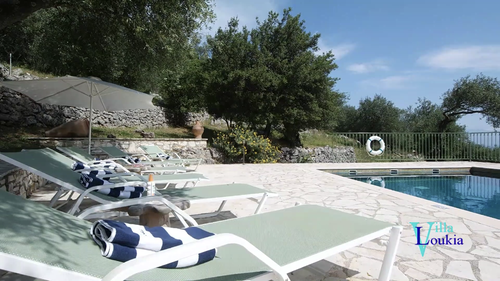 Villa Loukia goes Carbon Neutral
Villa Loukia offsets 40 tonnes of carbon
Our goal is to make Villa Loukia carbon neutral and we are committed to reducing climate change.  Carbon offsetting is used to balance out our emissions by helping to pay for emission savings in other parts of the world.
We pledge to offset each year  the carbon connected to the use of Villa Loukia as a holiday rental.  This includes electricity, car usage by guests and staff, laundry and ALL guest flights.
We are really pleased that in 2018 Villa Loukia produced 80% of the electricity used (including air conditioning and pool heating) from the Photovoltaic Panel System on the roof and the Solar Water System. 
In total for 2018, we have calculated that Villa Loukia used some 38.4 tonnes of carbon.  We have rounded this up to 40 tonnes and this has been offset with a donation to carbonfootprint.com and their Community Projects Portfolio in Developing Countries.
The pledge we make is personal and on behalf of our Grandaughter, Imogen, so that she and her descendants can have a future.  It does not come at any financial cost to our guests.