News:
New for 2019!
Table Tennis Court
For 2019 we have created a futuristic table tennis table in its own court, nestled into the olive grove above the pool.  Perfect way to get some exercise after a day lounging by the pool.  We think this is going to be a very popular feature.  Bats and balls are provided.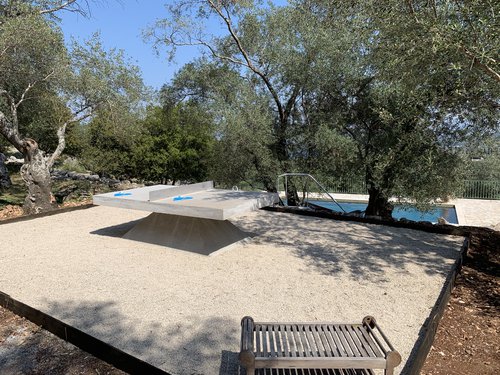 Welcome 2019
Bookings coming thick and fast!
Happy New Year to you all.  
We are once again looking forward to a busy season at Villa Loukia.  Bookings for 2019 are coming in fast but there are a few very nice weeks left available, so do get in there quickly.

I have also just taken my first booking for 2020.  Without a doubt it is worth booking early, especially if you are wanting a particular date for that special occasion. 

Best Wishes
Lucy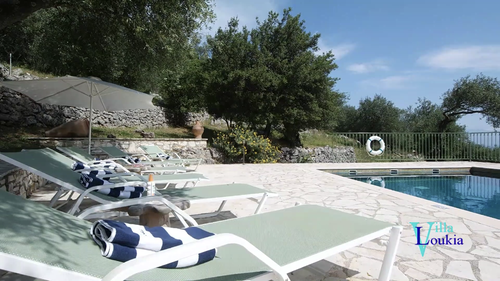 Villa Loukia goes Carbon Neutral
Villa Loukia offsets 40 tonnes of carbon
Our goal is to make Villa Loukia carbon neutral and we are committed to reducing climate change.  Carbon offsetting is used to balance out our emissions by helping to pay for emission savings in other parts of the world.
We pledge to offset each year  the carbon connected to the use of Villa Loukia as a holiday rental.  This includes electricity, car usage by guests and staff, laundry and ALL guest flights.
We are really pleased that in 2018 Villa Loukia produced 80% of the electricity used (including air conditioning and pool heating) from the Photovoltaic Panel System on the roof and the Solar Water System. 
In total for 2018, we have calculated that Villa Loukia used some 38.4 tonnes of carbon.  We have rounded this up to 40 tonnes and this has been offset with a donation to carbonfootprint.com and their Community Projects Portfolio in Developing Countries.
The pledge we make is personal and on behalf of our Grandaughter, Imogen, so that she and her descendants can have a future.  It does not come at any financial cost to our guests.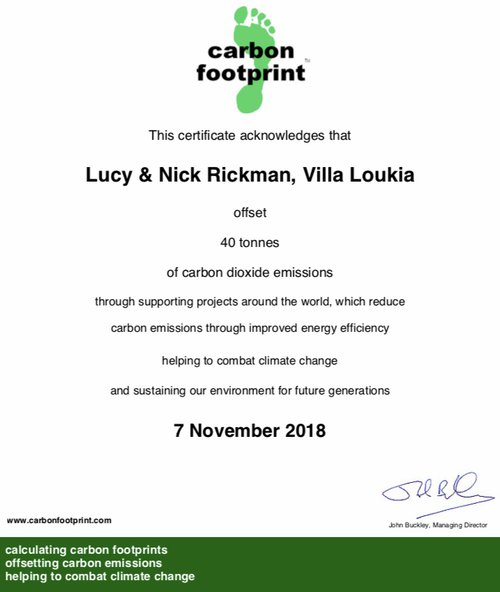 Encouraging Wild Life
Airbnb for Scops Owls
We have just installed 3 bird boxes around the olive grove at Villa Loukia, in the hope that we might encourage some Scops Owls to next there on their return to the island.  The Scops Owl is the one you will hear frequently when sitting up on the terrace at Villa Loukia and it has a very distinctive whistle.   Although we have been listening to them for years, we have never actually seen one.  They are actually very small!  Fingers firmly crossed.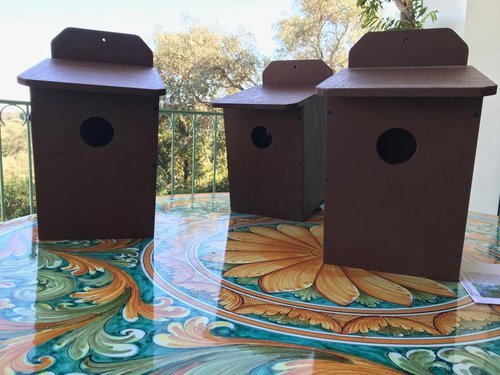 Keeping Corfu Clean!
There are some big changes happening on Corfu regarding rubbish.  Rubbish removal has become a bit of an issue in recent times and it is fantastic that Corfu is now getting to grips with the problem and we at Villa Loukia are doing our bit to  help.   All the local bins have been removed from Kassiopi so that Kassiopi is now clean.  We have signed up to a recycling collection once per week from the villa and the new blue bin has just been installed for this purpose.  This removes all paper, cardboard, tin and hard plastic from the rubbish and also collected seperately, the glass.  The remaining dirty rubbish is removed by the cleaners every week or can be taken outside of Kassiopi to the green bins.  All good news!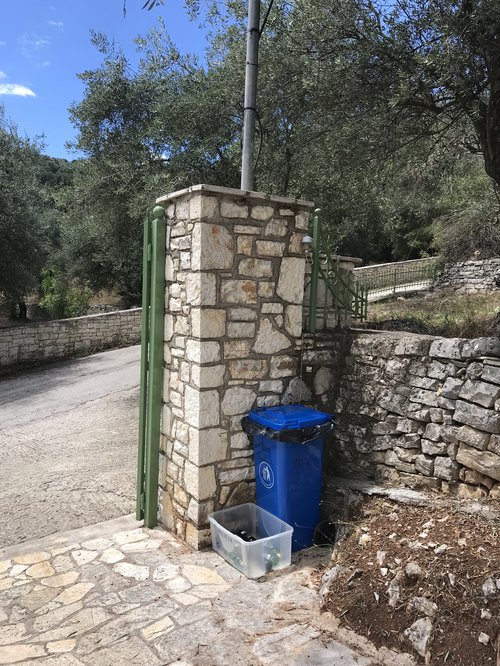 Refurbishment of Villa Loukia all complete for 2018
Perfect kitchen work-space if you like to cook!
We have spent 5 of the last 6 weeks in Corfu upgrading the whole of the downstairs to match the upstairs (refurbished in 2016 & 2015).  At last all is finished, although the process was incredibly hard work!   The results are fabulous and Villa Loukia is now completely re-tiled, all bedrooms and bathrooms are new and up-to-date and the kitchen has been re-modeled and now is a wonderful space to cook in, with all new appliances, lots of usable granite worktop and a 4-door American style fridge with filtered water and ice.   It really is a joy to work in so if you go on holiday and like to have time to cook - this is where to go!  Enjoy!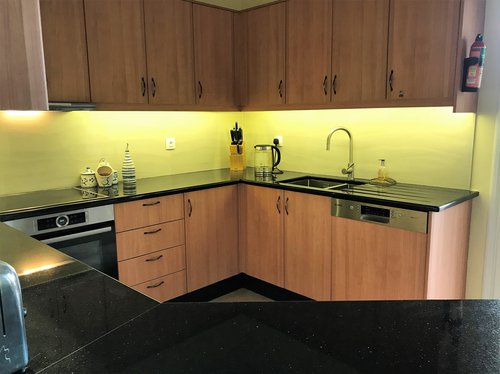 Corfu & Back
The Long Way Down!
Nick and I have just got back from a fabulous 3 week trip to Corfu and back - the long way down!
We rode the Harley 4164 miles through 10 countries: England, France, Germany, Austria, Slovenia, Croatia, Bosnia & Herzegovina, Montenegro, Albania and Greece.
We have also twice in the past done the 'short route' via Italy.
If anyone ever wants any information or advice on how to plan such an adventure (in a car works too!), then we are happy to share our experience - just message me.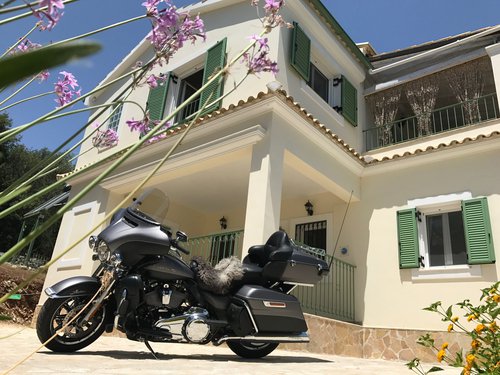 The Durrells
Series 3 being filmed in early May
Hope you are all enjoying the 2nd Series of the Durrells on a Sunday evening.  Corfu is being shown in all its beauty.  Think it is the finale this weekend.  Nick recently caught sight of Series 3 being filmed on a beautiful day in early May.  The 'Durrell House' is at Kontokali, just north of Corfu Town.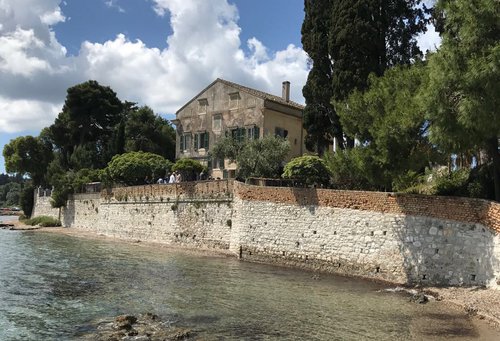 May Day Guests Arrive
Email from family on arrival - Job Done!
Hi Lucy,
Just a short message to let you know we have arrived safely at Villa Loukia :-) The house was easy to find, is just beautifull and the view... it seems almost unreal. Such a magnificent place. The kids jumped right into the pool, the sun is shining so we are just going to lie back and relax ;-)
Bye for now and all the best from all of us!!
Many greetings from Corfu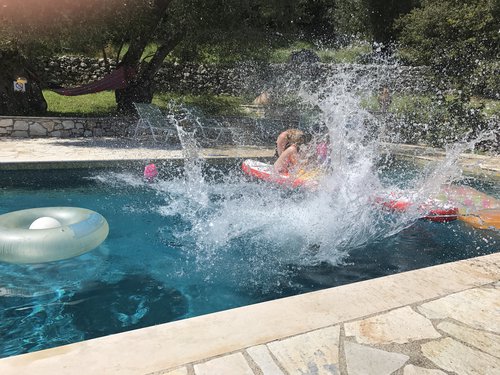 Fireflies and Springflowers
Grab a last minute break in May
May has to be one of the best months on Corfu.  It is beautifully warm but not too hot.  The grass is green rather than baked brown.  The spring flowers are in flower!  There are lambs and goats grazing through the olive groves.  And best of all the fireflies twinkle like fairies in the olive grove after dark.   I do have some availability left for May if you want a last minute break.  Message me for a good price.