News:
The Durrells
Series 3 being filmed in early May
Hope you are all enjoying the 2nd Series of the Durrells on a Sunday evening.  Corfu is being shown in all its beauty.  Think it is the finale this weekend.  Nick recently caught sight of Series 3 being filmed on a beautiful day in early May.  The 'Durrell House' is at Kontokali, just north of Corfu Town.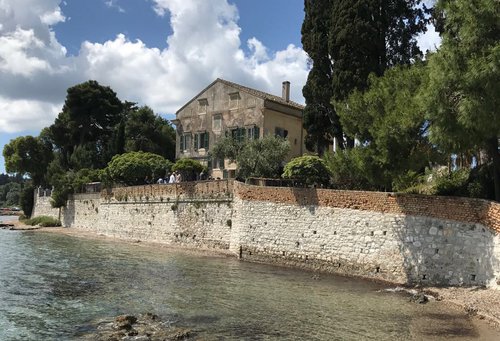 May Day Guests Arrive
Email from family on arrival - Job Done!
Hi Lucy,
Just a short message to let you know we have arrived safely at Villa Loukia :-) The house was easy to find, is just beautifull and the view... it seems almost unreal. Such a magnificent place. The kids jumped right into the pool, the sun is shining so we are just going to lie back and relax ;-)
Bye for now and all the best from all of us!!
Many greetings from Corfu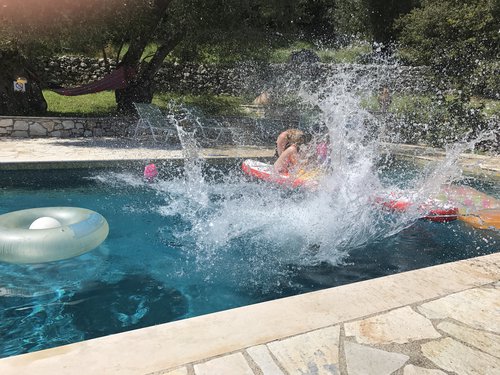 Fireflies and Springflowers
Grab a last minute break in May
May has to be one of the best months on Corfu.  It is beautifully warm but not too hot.  The grass is green rather than baked brown.  The spring flowers are in flower!  There are lambs and goats grazing through the olive groves.  And best of all the fireflies twinkle like fairies in the olive grove after dark.   I do have some availability left for May if you want a last minute break.  Message me for a good price.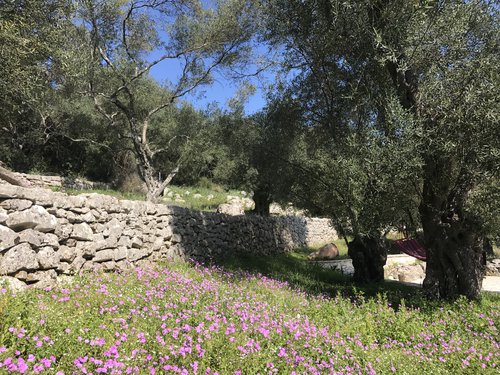 Easter 2017
You can't beat Springtime
We have had a wonderful break at Villa Loukia over Easter.  The weather was great and just right for really enjoying this island.  Spring really is a brilliant time for walking up the mountain or along the coastal paths,  enjoying the spring flowers and the wildlife.  With wetsuits on we enjoyed the water too by paddle board.    Corfu has so much to offer at other times than Peak Season with the great advantage too that it is beautifully quiet and the flights are cheaper.   I do still have a couple of weeks available in May if you are tempted.....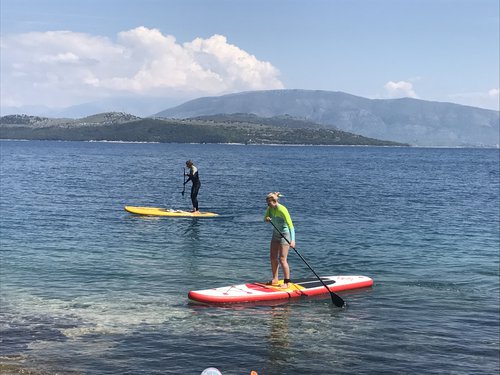 When is the best time to book?
AS EARLY AS POSSIBLE!
I do hate having to disappoint people when their chosen weeks are already taken.  Booking early, particularly if you want high season, makes so much sense. My record to date is a guest who booked 23 months ahead to make sure she got the two weeks she wanted.   The ideal time is by the end of the previous summer as EasyJet release their flight schedules in September -November.  This means you are in a great position to pick up the best value flights.  Waiting until January (which is peak booking time) is risky and flights will be more.  If you are after a low season holiday in May or October then those weeks tend to book later.  Hope this helps!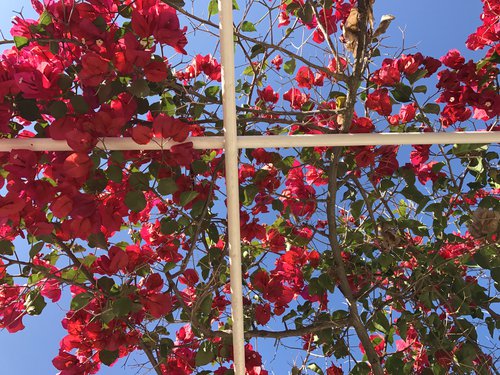 A winter adventure
we didn't quite plan to go to Albania....
This week (December 2016) we came to Villa Loukia to finish the Phase 2 of the upgrading work and to get the house all set up for 2017.  As ever in winter the lack of direct flights is a headache but the route via Thessaloniki is rather lovely.  A few days before we left home we heard that the seamen were all on strike for two days in Greece.  Not a problem, they would be back at work before we got there.  The day before we left they extended the strike by a further 2 days - ok a night in Igoumenitsa would be necessary.  Having flown on Monday to Thessaloniki we then drove the 200  miles across northern Greece to Igoumentisa but on arrival discovered that the strike had been extended to Friday!  We were flying home again on Saturday.....  So on the advice of a German friend, on Tuesday morning we drove to the Greek border, left our car, walked the 1/4 mile to the Albanian border, found a taxi and a wonderful Albanian called Mouzo, he drove us to Serande (seen in the photo across the water from Villa Loukia) and we then took the hydrofoil back to Corfu Town.  It worked despite many Greeks trying to tell us we couldn't do it.  The only hassle was going in and out of the EU with the consequent border checks and customs of course.  We managed to blag our way back into Greece without incurring some hefty import tariffs on the goods we were bringing to the house.  On Saturday we have to do the return trip.....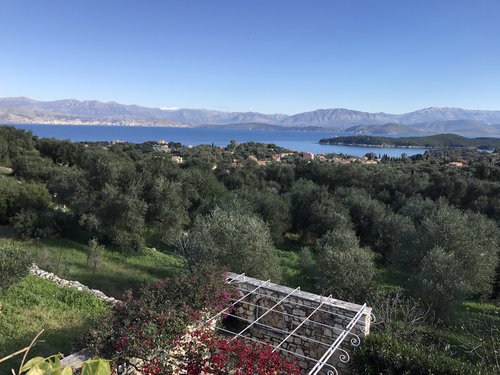 Phase 2 of the Villa Loukia Upgrade complete
The Blue Bedroom and ensuite have been completely remodelled for 2017
Phase 2 of the Villa Loukia upgrade is now complete.  All ready for season 2017.  The Blue Bedroom and its ensuite bathroom have been completely remodelled.  The layout was always wrong so we have moved the wall between the two rooms, giving a much bigger and better shaped ensuite shower room.  It really is luxurious; wet room style shower, loads of modern lighting, automatic night lights, heated mirror and magnified shaving mirror.  As with all our projects it was a  year in the planning and it is fantastic to see it at last take shape.  The bedroom itself is now laid out so that the beds are opposite the view and the floor is now the same wonderful tiles as in the master suite. 
So what will Phase 3 be.......  watch this space.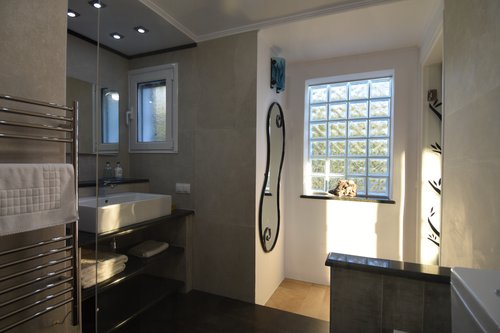 The building work was worth it!
'Bathroom is worthy of a 5* hotel'
As one of our guests commented this summer 'the bathroom is worthy of a 5* hotel in the Middle/Far East!'   That made us smile!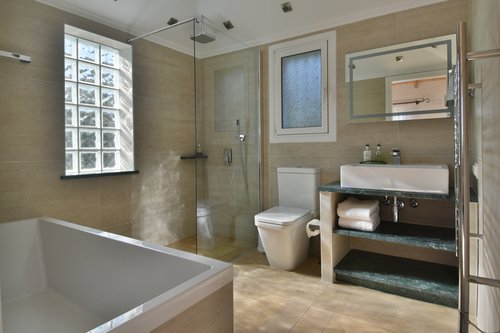 Easyjet flight schedules released
EasyJet have released their summer 2017 schedules up to 24th September.  Book early to grab a great price.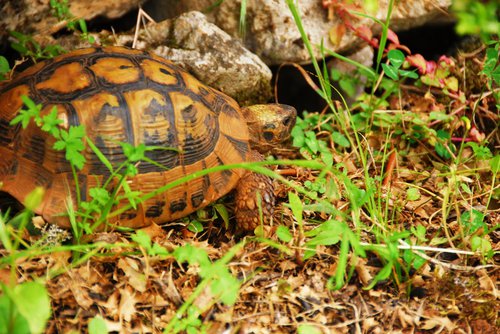 More Improvements for Winter 2016
Building work starts again in November
Our wonderful builder, Chris Giannoukas, is already booked to start work on further improvements to Villa Loukia.  In November the blue bedroom and bathroom will be upgraded to match the quality of the master suite.  Watch this space for photos.....