Don't Miss:
1st Review for 2023
5*
First guests for 2023 have just left their review.  Clearly happy with their choice!  Think this guest must be a writer...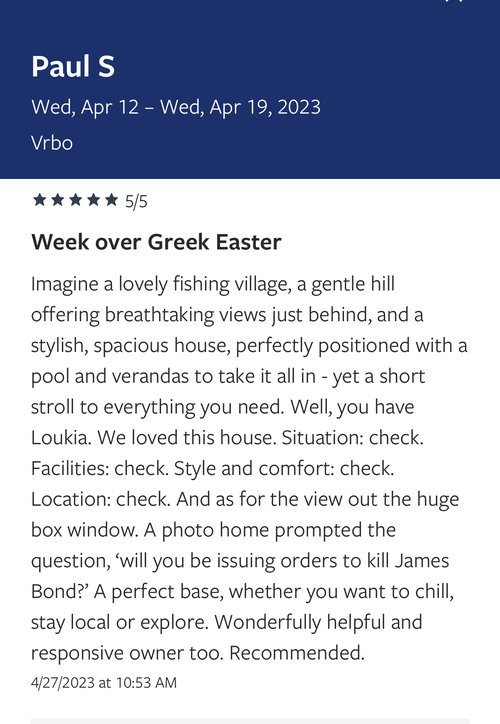 Villa Loukia 15th Anniversary!
Christmas 2022 Newsletter.
Hi Everyone
For the first time in 15 years, we have not sent out one of our Villa Loukia Christmas Cards.  A family tragedy in late November set back all the normal planning.  So instead I am doing the first Villa Loukia newsletter!
I am writing this on December 21st - it is 15 years to the day since we bought the very basic villa, without a pool or garden, just built in the olive grove above Kassiopi.  What an adventure the past 15 years have been.  We have met and had contact with so many people from different countries and from all around the UK .  Loukia has provided holidays to couples, groups, and growing families alike.  It has seen big birthdays celebrated, anniversaries and even a honeymoon.  And some guests have come back year after year.  And for us, new friendships have been created.
Whilst I was at Loukia at the end of this season in late October, I went through all the many thousands of photos that we have taken, cataloguing the way Loukia has evolved and improved over the years.  I have made an album of the adventure, which you will be able to see in the villa next year.  
2022 saw Villa Loukia back to 'normal' following the two pandemic years.  Many of our guests this year had been waiting a long time for their holiday, as Covid had forced many postponements.  It was lovely seeing guests confidently travelling once more and without testing, masks and PLFs!  Let's hope those days are firmly behind us.
Nick and I have worked very hard creating the Villa Loukia of today and so we are always so pleased when guests contact us soon after arriving at Loukia with messages like this one:
Well. Wow. This is absolutely lovely! The villa looked great from the pictures but in real life it's 10 times better!    Just confirming we are in ok. VERY happy with everything. It feels like a very loved house. Also - you will probably think we are totally bonkers - but what is your availability looking like next summer!?   
That really says it all!  
We are all facing difficult times this winter, so having holidays to dream about is always a good way of getting through the winter.   I have good availability for 2023 with the exception of June and August and I have taken a booking for 2024.  Planning ahead does guarantee you the weeks you want and at the previous year's price.  Also the best deals on flights are always when they are first released.
The booking platforms (with the exception of Simply Owners which is free) seem to become ever more costly for our guests, so booking direct is the most cost effective way.  Next year, I want to find a way that you can do an instant booking directly with me (for those of you who don't prefer the personal touch!) - more news on that when it happens.
We continue to strive to make holidays at Loukia as sustainable as they possibly can be.  We made 61.5% of the electricity used from our solar panels this summer and I once again offset the carbon used in running Loukia and all guest flights.  In addition we have just planted a further 9 cyprus trees in the olive grove.  
We had our first guests arrive by train and ferry this year from London - will try and get a blog done about their experience early next year.
Wishing you all a very Happy Christmas and a Happy New Year!
Best Wishes
Lucy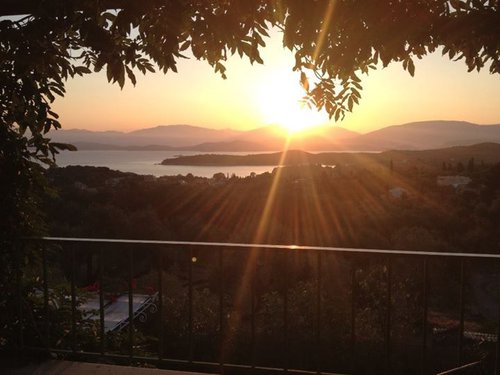 Offsetting 2022!
Keeping Loukia Holidays as sustainable as possible
Once again we have offset the carbon used in everyone's holidays at Loukia this season.  This includes flights, electricity (we made 61% of what we needed from the PVS), car transport, staff etc.
In addition we are just buying 9 large Cyprus Trees to be planted in the olive grove over the winter.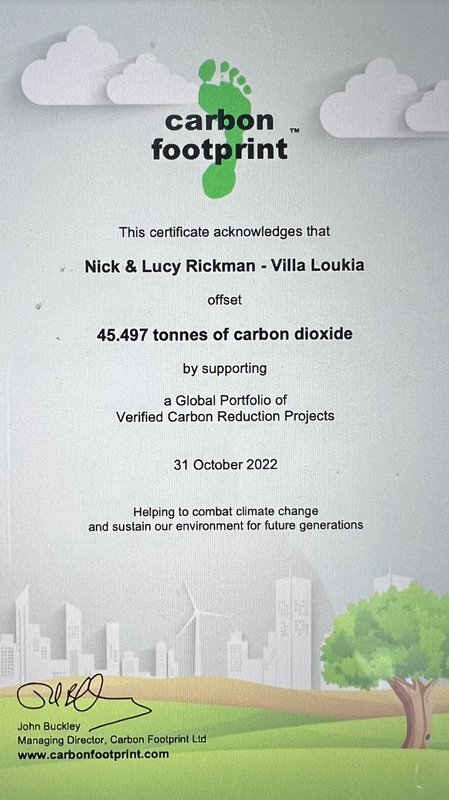 Offsetting 2021
Aiming to make holidays at Villa Loukia more sustainable
1.     Energy:  During 2021 Villa Loukia used 9684 kwh of electricity.  However, Villa Loukia also created 8588 kwh of energy from her Photovoltaic roof panels.  This means the total number of kwh used to run Villa Loukia was just 1096.
2.     We have offset the electricity used and all flights connected to the villa (ie the flights taken by all guests).  This comes to a total of 28 tonnes.
3.     To offset other omissions created by the cars hired, cars driven by staff, laundry and the general running of the villa, we are planting 2 new Cypress Trees and 2 fast growing Paulownia trees in the olive grove.  They are reported to absorb 10 x more C02 than other trees.  We are doing this in collaboration with Vassilis Sofitis of www.poolsandgardens.gr.  If this is successful, then we aim to extend this planting next autumn through Villa Loukia's olive grove.
4.     From 2023 we plan to start charging for the use of the pool heater in low season (April/early May or late September/October) .  Often the pool is heated even though the guests are not using it which is not good environmentally.  We feel that bringing in a charge will focus people's minds as to whether they really want it heated or not.  Obviously for most of the season the sun does a perfect job of heating the pool naturally.
5.     At Villa Loukia we remain committed to recycling and the use of eco-friendly products wherever possible.
6.     Our offsetting policy is at our own expense and is a personal pledge to creating a better future for our granddaughter, Imogen.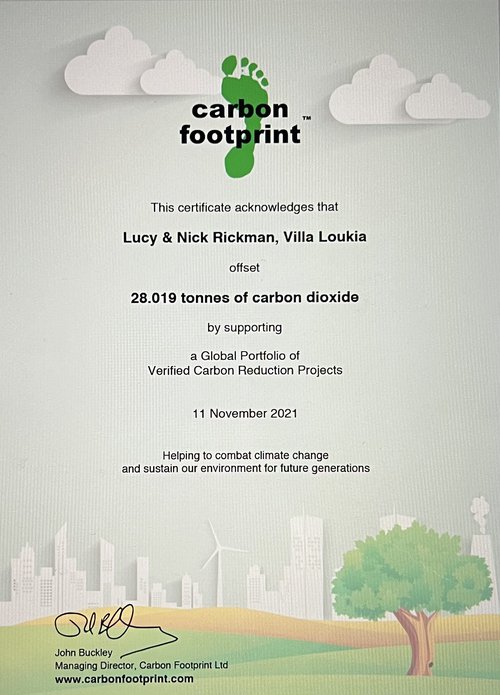 E-biking on Corfu
A fabulous day e-biking up Pantokrator in October
Really recommend e-biking in low season.  S-Bikes in Acharavi have really good bikes and will supply you with maps and routes.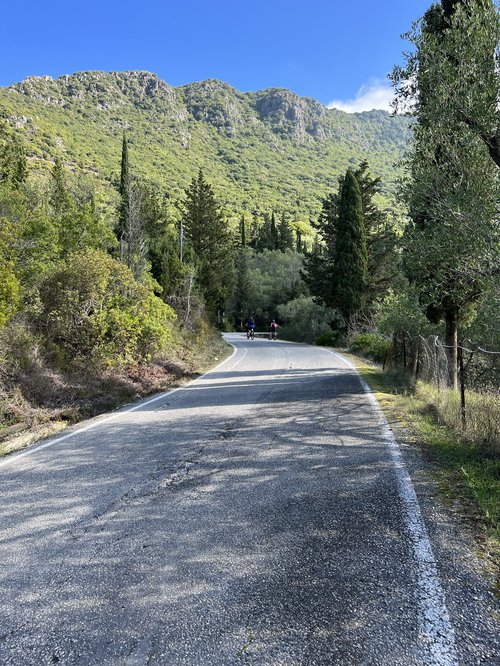 Local Craftsmen
Where possible we have used local craftsmen to furnish our villa
Villa Loukia was originally built in 2007 by the extremely charismatic Andreas  Vlachos.  However the upgrading work of 2016 and 2017 has been completed by Chris Giannoukas.  We can not speak more highly  of Chris and his team.  I have never seen men work so hard or listen more carefully to what the client wants.  He has to be one of the finest builders on the island.
Villa Loukia has been mainly furnished with hand-made items made by local craftsmen.  All the iron furniture in the bedrooms and some in the living room was made for us by the wonderful Kostas Mastrantonis.  His work  receives many compliments.  We have also recently discovered Corfu Glass and they have hand crafted all our wall lights - an example is above. 
When it comes to the art in Villa Loukia that has come from our village back in England.  Above the fire place is an Elizabeth Dalziel photo of a corn flower, taken in the olive grove at the villa.  A Tina Hunter painting hangs at the bottom of the stairs and the ponies at the top of the stairs were painted for me by our eldest son, Robbie.  I hope to add to this collection.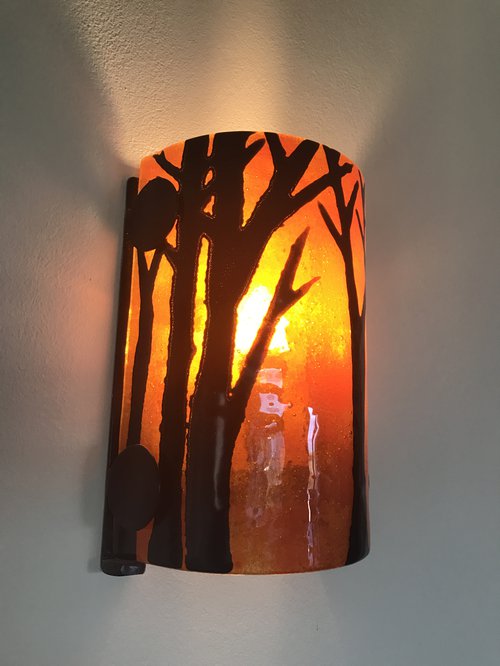 Corfu and Cats
Please don't feed them!
I am a cat lover - I have two gorgeous Bengals back in the UK.  But cats on Corfu are wild.  If they are fed through the summer then they suffer in the winter when all the guests (and food supply) are gone. The cats are also a big nuisance if they are hanging around villas  - they bring disease and fleas, sit on all the cushions leaving them dirty, etc.  And of course some of our guests might be cat intolerant. It only takes one guest to feed them for the cats to stay close to the villas.  So please please don't!  We don't generally have a problem at Villa Loukia because we do not encourage them.     If you want to help the  cats on Corfu then please leave them alone and help through one of the many charities such as agni-animal-welfare-fund.co.uk or corfuanimalwelfare.com.   Thank-you!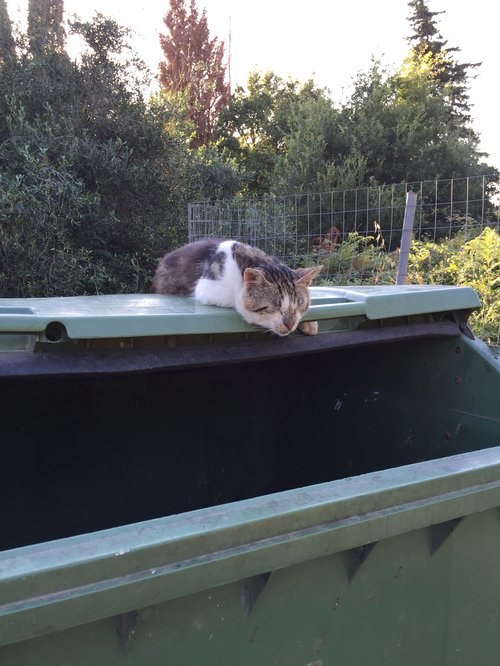 Big Celebrations!
We love it when people choose Villa Loukia to celebrate a big life event.  So far we have had guests celebrate a 1st birthday, 18th, 40th, 50th and a 90th (and lots of smaller number in between)!  We have also had a 25th wedding anniversary and a 45th.    But we still haven't had a honeymoon.....   Easter and Christmas have however both been celebrated at Villa Loukia.  It is also not unusual for 3 generations of one family to choose Loukia.  And of course we have had lots of teenagers celebrating GCSE and A level results in August.    Do let me know if you are celebrating something important!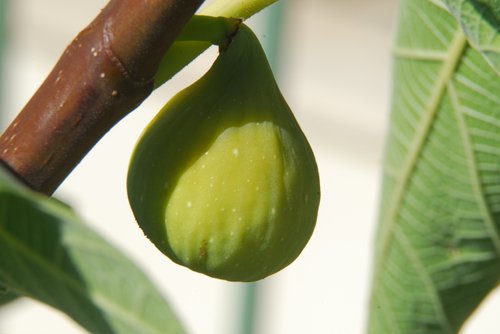 Who are our guests?
Villa Loukia is about to go into its 10th season.  Although most of our guests are from the UK we have also had guests from the USA, Russia, Holland, Germany, Ireland and France.   I hope this list continues to grow.  All nationalities are very welcome.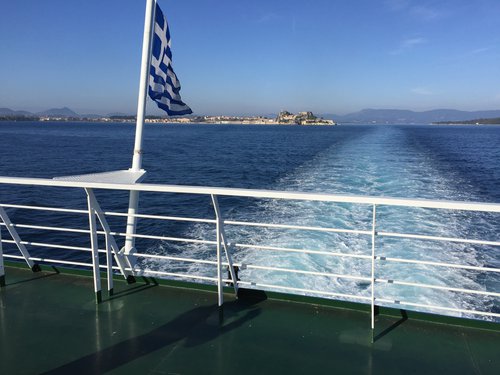 How many can we sleep?
Perfect for a couple or for a family of 6-9
Villa Loukia is a 3 bed house sleeping 6.  However we can cater for infants, have a spare single bed in the master suite and a double sofa bed in the living room for adults.  So the accommodation is flexible!